The Finch Theatre will be closed through March 31. All movies and activities scheduled at the Finch including rentals are cancelled. We apologize for the inconvenience, but our overall goal is the safety of our customers, staff and volunteers.
Please stay safe. If you have any questions please message me on facebook or text me at 785-384-0479.

Click on the Movie Posters to the right, to watch the movie's preview and view additional information!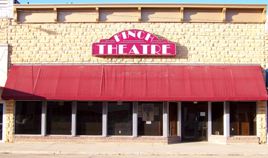 The Bud Finch Memorial Community Theatre Foundation was established as a 501(c)(3) non-profit, community based corporation in October 1994. The following goals were established:
To provide a multipurpose facility for movies, the performing arts, community meetings, and reunions that would serve the community.
To provide a place for youth in the community.
To foster local talent in a variety of areas, such as actors, directors, technicians, graphic artists, musicians, and other performers.
To provide opportunities for cultural and educational experiences for a wide variety of tastes and ages.
To cooperate with other local agencies such as the Lincoln Arts & Humanities Center and the county schools.