We are excited to announce that we will be reopening the Movie Theatre on June 19 & 20! There are a few changes, will not be open on Sundays until newly released movies are available. We have also increased our concession prices, but we tried to keep it small. One of the most important changes, we will not be offering refills at this time to ensure the comfort and safety of our customers and staff. We sincerely hope that you understand our position and continue to be customers of our facility! We can't wait to see you!
Please stay safe. If you have any questions please message me on facebook, email finchtheatre@gmail.com, or text me at 785-384-0479.

Click on the Movie Posters to the right, to watch the movie's preview and view additional information!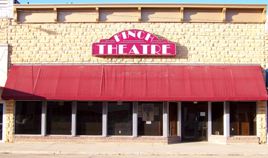 The Bud Finch Memorial Community Theatre Foundation was established as a 501(c)(3) non-profit, community based corporation in October 1994. The following goals were established:
To provide a multipurpose facility for movies, the performing arts, community meetings, and reunions that would serve the community.
To provide a place for youth in the community.
To foster local talent in a variety of areas, such as actors, directors, technicians, graphic artists, musicians, and other performers.
To provide opportunities for cultural and educational experiences for a wide variety of tastes and ages.
To cooperate with other local agencies such as the Lincoln Arts & Humanities Center and the county schools.
Mar 5 - Mar 7
Tom and Jerry (PG)
Fri. & Sat.: 7:00 p.m.
Sun.: 3:00 p.m.
Running Time: 1 hr 41 min
Tom and Jerry
Tom & Jerry is an upcoming American live-action/computer-animated slapstick comedy film based on the characters of the same name created by William Hanna and Joseph Barbera, produced by the Warner Animation Group and distributed by Warner Bros. Pictures. The film is directed by Tim Story and written by Kevin Costello.
Running Time:&nbsp 1 hr 41 min
Genre:&nbsp Family, Comedy
Director:&nbsp Tim Story
Cast:&nbsp Chloë Grace Moretz, Michael Peña, Rob Delaney