We will not be offering refills at this time to ensure the comfort and safety of our customers and staff. We sincerely hope that you understand our position and continue to be customers of our facility! We can't wait to see you!
Please stay safe. If you have any questions please message me on Facebook, email finchtheatre@gmail.com, or text me at 785-384-0479.

Click on the Movie Posters to the right, to watch the movie's preview and view additional information!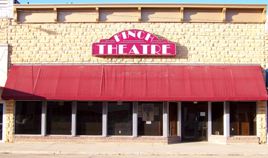 The Bud Finch Memorial Community Theatre Foundation was established as a 501(c)(3) non-profit, community based corporation in October 1994. The following goals were established:
To provide a multipurpose facility for movies, the performing arts, community meetings, and reunions that would serve the community.
To provide a place for youth in the community.
To foster local talent in a variety of areas, such as actors, directors, technicians, graphic artists, musicians, and other performers.
To provide opportunities for cultural and educational experiences for a wide variety of tastes and ages.
To cooperate with other local agencies such as the Lincoln Arts & Humanities Center and the county schools.
Oct 22 - Oct 24
The Addams Family 2 (PG)
Fri. & Sat.: 7:00 p.m.
Sun.: 3:00 p.m.
Running Time: 1 hr 33 min
The Addams Family 2
Everyone's favorite spooky family is back in the animated comedy sequel, The Addams Family 2. In this all new movie we find Morticia and Gomez distraught that their children are growing up, skipping family dinners, and totally consumed with "scream time." To reclaim their bond they decide to cram Wednesday, Pugsley, Uncle Fester and the crew into their haunted camper and hit the road for one last miserable family vacation. Their adventure across America takes them out of their element and into hilarious run-ins with their iconic cousin, IT, as well as many new kooky characters. What could possibly go wrong?
Running Time:&nbsp 1 hr 33 min
Genre:&nbsp Family, Action and Adventure
Director:&nbsp Greg Tiernan, Conrad Vernon
Cast:&nbsp Oscar Isaac, Charlize Theron, Chloë Grace Moretz, Nick Kroll, Javon 'Wanna' Walton, Wallace Shawn, Snoop Dogg, Bette Midler, Bill Hader
Oct 29 - Oct 31
No Time To Die (PG-13)
Fri. & Sat.: 7:00 p.m.
Sun.: 3:00 p.m.
Running Time: 2 hr 43 min
No Time To Die
In No Time To Die, Bond has left active service and is enjoying a tranquil life in Jamaica. His peace is short-lived when his old friend Felix Leiter from the CIA turns up asking for help. The mission to rescue a kidnapped scientist turns out to be far more treacherous than expected, leading Bond onto the trail of a mysterious villain armed with dangerous new technology.
Running Time:&nbsp 2 hr 43 min
Genre:&nbsp Action and Adventure
Director:&nbsp Cary Joji Fukunaga
Cast:&nbsp Daniel Craig, Rami Malek, Léa Seydoux, Lashana Lynch, Ben Whishaw, Naomie Harris, Jeffrey Wright, Ana de Armas, Christoph Waltz, Ralph Fiennes