Click on the Movie Posters to the right, to watch the movie's preview and view additional information!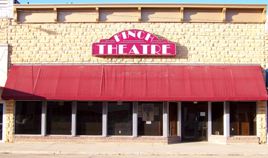 The Bud Finch Memorial Community Theatre Foundation was established as a 501(c)(3) non-profit, community based corporation in October 1994. The following goals were established:
To provide a multipurpose facility for movies, the performing arts, community meetings, and reunions that would serve the community.
To provide a place for youth in the community.
To foster local talent in a variety of areas, such as actors, directors, technicians, graphic artists, musicians, and other performers.
To provide opportunities for cultural and educational experiences for a wide variety of tastes and ages.
To cooperate with other local agencies such as the Lincoln Arts & Humanities Center and the county schools.
Nov 15 - Nov 17
Maleficent: Mistress of Evil (PG)
Fri. & Sat.: 7 pm
Sun.: 3 pm
Running Time: 1hr 58min
Maleficent: Mistress of Evil
"Maleficent: Mistress of Evil" is a fantasy adventure that picks up several years after Maleficent, in which audiences learned of the events that hardened the heart of Disney's most notorious villain and drove her to curse a baby Princess Aurora. The film continues to explore the complex relationship between the horned fairy and the soon to be Queen as they form new alliances and face new adversaries in their struggle to protect the moors and the magical creatures that reside within.
Running Time:&nbsp 1hr 58min
Genre:&nbsp Action and Adventure, Fantasy
Director:&nbsp Joachim Rønning
Cast:&nbsp Angelina Jolie, Elle Fanning, Michelle Pfeiffer, Chiwetel Ejiofor, Sam Riley, Harris Dickinson, Ed Skrein, Imelda Staunton, Juno Temple, Lesley Manville
Nov 22 - Nov 24
Playing with Fire
Fri. & Sat.: 7 pm
Sun.: 3 pm
Playing with Fire
When straight-laced fire superintendent Jake Carson (John Cena) and his elite team of expert firefighters (Keegan-Michael Key, John Leguizamo and Tyler Mane) come to the rescue of three siblings (Brianna Hildebrand, Christian Convery and Finley Rose Slater) in the path of an encroaching wildfire, they quickly realize that no amount of training could prepare them for their most challenging job yet – babysitters. Unable to locate the children's parents, the firefighters have their lives, jobs and even their fire depot turned upside down and quickly learn that kids – much like fires –are wild and unpredictable.
Genre:&nbsp Comedy
Director:&nbsp Andy Fickman
Cast:&nbsp John Cena