The Finch Theatre Facilities and Rental Opportunities:
The community room and theatre are handicapped accessible.

Rent the Community Room
The Community Room is available for rent for any type of personal, business or community event. The fee to rent the community room is: 5 hours or less - $50.00; All Day - $75.00; Weddings - $150 (An all day rate will be charged if setup is required the day before.)

Amenities include 12 round tables, chairs to seat 100, wireless internet access, full kitchen with electric range and clean restroom facilities.

Rent the Theatre:
The Theatre is availabe for rent for movies, productions, presentations and/or community events. The theatre has power point presentation capabilities, sound system, lighting and wireless internet access. Rental times are subject to the availability of theatre employees.

Special Private Showings for:
• Birthdays
• Family Gatherings
• After Prom Parties
• Any occasion when you want the theater all to yourself
To rent the theatre for a movie we are currently showing:
Fee is $115, plus regular admission prices - $5.00-adults, $4.00-senior/children.
Concessions can be available for purchase, minimum required.

Special Order Movies:
• Rental fees are for all direct costs* plus $75 theatre fee.
• Extra time is required for ordering these movies.
• Not all movies are available
*Direct Costs include movie rental fee, broker fee, delivery charges and projectionists time to prepare, show and take down the movie. Rental fees for special order movies vary according to charges assessed by each distribution company.

Community Events/Presentations/Productions:
Rental fee for these types of events start at $75.00 per day. Prices are determined by the type of event and if an admission fee is charged. A $10.00 per hour fee will be assessed if use of the projector, lights and/or sound are required.

For all inquiries and scheduling, contact the manager, Dawn Harlow at 785-524-4350 during theatre hours or email finchtheatre@gmail.com.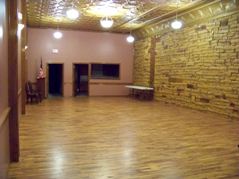 Community Room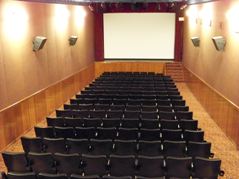 Theatre

Jan 29 - Jan 31
Monster Hunter (PG-13)
Fri. & Sat.: 7:00 pm
Sun.: 3:00 pm
Running Time: 1hr 43 min
Monster Hunter
Behind our world, there is another: a world of dangerous and powerful monsters that rule their domain with deadly ferocity. When an unexpected sandstorm transports Captain Artemis (Milla Jovovich) and her unit to a new world, the soldiers are shocked to discover that this hostile and unknown environment is home to enormous and terrifying monsters immune to their firepower. In their desperate battle for survival, the unit encounters the mysterious Hunter (Tony Jaa), whose unique skills allow him to stay one step ahead of the powerful creatures. As Artemis and Hunter slowly build trust, she discovers that he is part of a team led by the Admiral (Ron Perlman). Facing a danger so great it could threaten to destroy their world, the brave warriors combine their unique abilities to band together for the ultimate showdown. Based on the global video game series phenomenon MONSTER HUNTER.
Running Time:&nbsp 1hr 43 min
Genre:&nbsp Fantasy, Action and Adventure, Thriller
Director:&nbsp Paul W.S. Anderson
Cast:&nbsp Milla Jovovich, Tony Jaa, Tip 'T.I.' Harris, Meagan Good, Diego Boneta, Josh Helman, Jin Au-Yeung, Ron Perlman