Rent the Facilities
The Finch Theatre Facilities and Rental Opportunities:
The community room and theatre are handicapped accessible.

Rent the Community Room
The Community Room is available for rent for any type of personal, business or community event. The fee to rent the community room is: 5 hours or less - $50.00; All Day - $75.00; Weddings - $150 (An all day rate will be charged if setup is required the day before.)

Amenities include 12 round tables, chairs to seat 100, wireless internet access, full kitchen with electric range and clean restroom facilities.

Rent the Theatre:
The Theatre is availabe for rent for movies, productions, presentations and/or community events. The theatre has power point presentation capabilities, sound system, lighting and wireless internet access. Rental times are subject to the availability of theatre employees.

Special Private Showings for:
• Birthdays
• Family Gatherings
• After Prom Parties
• Any occasion when you want the theater all to yourself
To rent the theatre for a movie we are currently showing:
Fee is $115, plus regular admission prices - $5.00-adults, $4.00-senior/children.
Concessions can be available for purchase, minimum required.

Special Order Movies:
• Rental fees are for all direct costs* plus $75 theatre fee.
• Extra time is required for ordering these movies.
• Not all movies are available
*Direct Costs include movie rental fee, broker fee, delivery charges and projectionists time to prepare, show and take down the movie. Rental fees for special order movies vary according to charges assessed by each distribution company.

Community Events/Presentations/Productions:
Rental fee for these types of events start at $75.00 per day. Prices are determined by the type of event and if an admission fee is charged. A $10.00 per hour fee will be assessed if use of the projector, lights and/or sound are required.

For all inquiries and scheduling, contact the manager, Nicole Weber at 785-893-2583 or email finchtheatre@gmail.com.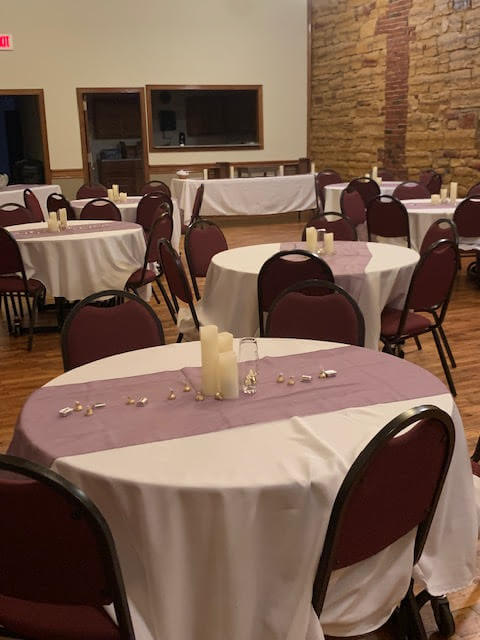 Community Room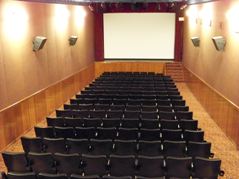 Theatre

May 20 - May 22
Father Stu (R)
Fri. & Sat.: 7 PM
Sun.: 3 PM
Running Time: 2 hrs 4 mins
Father Stu
Based on a true story, Father Stu is an unflinchingly honest, funny and ultimately uplifting drama about a lost soul who finds his purpose in a most unexpected place. When an injury ends his amateur boxing career, Stuart Long moves to L.A. dreaming of stardom. While scraping by as a supermarket clerk, he meets Carmen, a Catholic Sunday school teacher who seems immune to his bad-boy charm. Determined to win her over, the longtime agnostic starts going to church to impress her. But surviving a terrible motorcycle accident leaves him wondering if he can use his second chance to help others find their way, leading to the surprising realization that he is meant to be a Catholic priest. Stu pursues his vocation with courage and compassion, inspiring not only those closest to him but countless others along the way.
Running Time:&nbsp 2 hrs 4 mins
Genre:&nbsp Drama
Director:&nbsp Rosalind Ross
Cast:&nbsp Mark Wahlberg, Mel Gibson, Jacki Weaver, Teresa
May 27 - May 29
Top Gun: Maverick (PG-13)
Fri. & Sat.: 7 PM
Sun.: 3 PM
Running Time: 1 hr 31 mins
Top Gun: Maverick
After more than thirty years of service as one of the Navy's top aviators, Pete "Maverick" Mitchell (Tom Cruise) is where he belongs, pushing the envelope as a courageous test pilot and dodging the advancement in rank that would ground him. When he finds himself training a detachment of Top Gun graduates for a specialized mission the likes of which no living pilot has ever seen, Maverick encounters Lt. Bradley Bradshaw (Miles Teller), call sign "Rooster", the son of Maverick's late friend and Radar Intercept Officer Lt. Nick Bradshaw, aka "Goose". Facing an uncertainfuture and confronting the ghosts of his past, Maverick is drawn into a confrontation with his own deepest fears, culminating in a mission that demands the ultimate sacrifice from those who will be chosen to fly it.
Running Time:&nbsp 1 hr 31 mins
Genre:&nbsp Action and Adventure, Drama
Director:&nbsp Joseph Kosinski
Cast:&nbsp Tom Cruise, Miles Teller, Jennifer Connelly, Jon Hamm, Glen Powell, Lewis Pullman, Ed Harris