The Finch Theatre Facilities and Rental Opportunities:
The community room and theatre are handicapped accessible.

Rent the Community Room
The Community Room is available for rent for any type of personal, business or community event. The fee to rent the community room is: 5 hours or less - $50.00; All Day - $75.00; Weddings - $150 (An all day rate will be charged if setup is required the day before.)

Amenities include 12 round tables, chairs to seat 100, wireless internet access, full kitchen with electric range and clean restroom facilities.

Rent the Theatre:
The Theatre is availabe for rent for movies, productions, presentations and/or community events. The theatre has power point presentation capabilities, sound system, lighting and wireless internet access. Rental times are subject to the availability of theatre employees.

Special Private Showings for:
• Birthdays
• Family Gatherings
• After Prom Parties
• Any occasion when you want the theater all to yourself
To rent the theatre for a movie we are currently showing:
Fee is $115, plus regular admission prices - $5.00-adults, $4.00-senior/children.
Concessions can be available for purchase, minimum required.

Special Order Movies:
• Rental fees are for all direct costs* plus $75 theatre fee.
• Extra time is required for ordering these movies.
• Not all movies are available
*Direct Costs include movie rental fee, broker fee, delivery charges and projectionists time to prepare, show and take down the movie. Rental fees for special order movies vary according to charges assessed by each distribution company.

Community Events/Presentations/Productions:
Rental fee for these types of events start at $75.00 per day. Prices are determined by the type of event and if an admission fee is charged. A $10.00 per hour fee will be assessed if use of the projector, lights and/or sound are required.

For all inquiries and scheduling, contact the manager, Dawn Harlow at 785-524-4350 during theatre hours or email finchtheatre@gmail.com.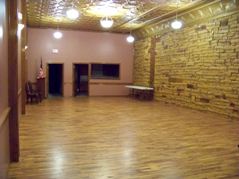 Community Room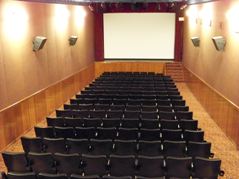 Theatre

Jul 10 - Jul 12
Trolls World Tour (PG)
Fri. & Sat.: 7:00 p.m.
Sun.: 3:00 p.m.
Running Time: 1 hr 34 min
Trolls World Tour
Anna Kendrick and Justin Timberlake return in an all-star sequel to DreamWorks Animation's 2016 musical hit. In an adventure that will take them well beyond what they've known before, Poppy (Kendrick) and Branch (Timberlake) discover that they are but one of six different Troll tribes scattered over six different lands and devoted to six different kinds of music: Funk, Country, Techno, Classical, Pop and Rock. Their world is about to get a lot bigger and a whole lot louder. A member of hard-rock royalty, Queen Barb (Rachel Bloom), aided by her father King Thrash (Ozzy Osbourne), wants to destroy all other kinds of music to let rock reign supreme. With the fate of the world at stake, Poppy and Branch, along with their friends, set out to visit all the other lands to unify the Trolls in harmony.
Running Time:&nbsp 1 hr 34 min
Genre:&nbsp Family, Action and Adventure, Musical
Director:&nbsp Walt Dohrn
Cast:&nbsp Anna Kendrick, Justin Timberlake, Rachel Bloom, Kelly Clarkson, James Corden, Ozzy Osbourne, Sam Rockwell, Kenan Thompson, George Clinton, Mary J. Blige