The Finch Theatre Facilities and Rental Opportunities:
The community room and theatre are handicapped accessible.

Rent the Community Room
The Community Room is available for rent for any type of personal, business or community event. The fee to rent the community room is: 4 hours or less - $35.00; All Day - $60.00; Internet Access - an additional $15.00. (An all day rate will be charged if setup is required the day before.)

Amenities include 12 round tables, chairs to seat 100, wireless internet access, full kitchen with electric range and clean restroom facilities.

Rent the Theatre:
The Theatre is availabe for rent for movies, productions, presentations and/or community events. The theatre has power point presentation capabilities, sound system, lighting and wireless internet access. Rental times are subject to the availability of theatre employees.

Special Private Showings for:
• Birthdays
• Family Gatherings
• After Prom Parties
• Any occasion when you want the theater all to yourself
To rent the theatre for a movie we are currently showing:
Fee is $115, plus regular admission prices - $5.00-adults, $4.00-senior/children.
Concessions can be available for purchase, minimum required.

Special Order Movies:
• Rental fees are for all direct costs* plus $75 theatre fee.
• Extra time is required for ordering these movies.
• Not all movies are available
*Direct Costs include movie rental fee, broker fee, delivery charges and projectionists time to prepare, show and take down the movie. Rental fees for special order movies vary according to charges assessed by each distribution company.

Community Events/Presentations/Productions:
Rental fee for these types of events start at $75.00 per day. Prices are determined by the type of event and if an admission fee is charged. A $10.00 per hour fee will be assessed if use of the projector, lights and/or sound are required.

For all inquiries and scheduling, contact the manager, Dawn Harlow at 785-524-4350 during theatre hours or use the "contact us" page on our website.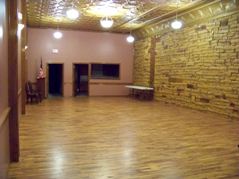 Community Room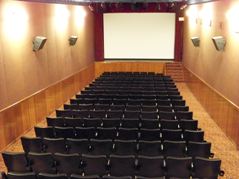 Theatre

Jul 19 - Jul 21
Spider-Man: Far From Home (PG-13)
Fri. & Sat.: 7 pm
Sun.: 3 pm
Running Time: 2 hr 9 min
Spider-Man: Far From Home
Peter Parker returns in Spider-Man: Far From Home, the next chapter of the Spider-Man: Homecoming series! Our friendly neighborhood Super Hero decides to join his best friends Ned, MJ, and the rest of the gang on a European vacation. However, Peter's plan to leave super heroics behind for a few weeks are quickly scrapped when he begrudgingly agrees to help Nick Fury uncover the mystery of several elemental creature attacks, creating havoc across the continent!
Running Time:&nbsp 2 hr 9 min
Genre:&nbsp Action and Adventure
Director:&nbsp Jon Watts
Cast:&nbsp om Holland, Samuel L. Jackson, Zendaya, Cobie Smulders, Jon Favreau, JB Smoove, Jacob Batalon, Martin Starr, Marisa Tomei, Jake Gyllenhaal
Jul 26 - Jul 28
Men In Black: International
(No Saturday Movie) (PG-13)
Fri. & Sat.: 7 pm
Sun.: 3 pm
Running Time: 1 hr 55 min
Men In Black: International
(No Saturday Movie)
The Men in Black have always protected the Earth from the scum of the universe. In this new adventure, they tackle their biggest, most global threat to date: a mole in the Men in Black organization.
Running Time:&nbsp 1 hr 55 min
Genre:&nbsp Action and Adventure
Director:&nbsp F. Gary Gray
Cast:&nbsp Chris Hemsworth, Tessa Thompson, Rebecca Ferguson, Kumail Nanjiani, Rafe Spall, Laurent Bourgeois, Larry Bourgeois, Emma Thompson, Liam Neeson