Have a question? Please use the following form to submit your
question to Finch Theatre.
Sep 18 - Sep 20
Unhinged (R)
Fri. & Sat.: 7:00 p.m.
Sun.: 3:00 p.m.
Running Time: 1 hr 30 min
Unhinged
Academy Award winner Russell Crowe stars in Unhinged, a timely psychological thriller that explores the fragile balance of a society pushed to the edge, taking something we've all experienced- road rage - to an unpredictable and terrifying conclusion. Rachel (Caren Pistorius) is running late to work when she has an altercation at a traffic light with a stranger (Crowe) whose life has left him feeling powerless and invisible. Soon, Rachel finds herself and everyone she loves the target of a man who decides to make one last mark upon the world by teaching her a series of deadly lessons. What follows is a dangerous game of cat and mouse that proves you never know just how close you are to someone who is about to become unhinged.
Running Time:&nbsp 1 hr 30 min
Genre:&nbsp Thriller
Director:&nbsp Derrick Borte
Cast:&nbsp Russell Crowe, Caren Pistorius, Gabriel Bateman, Jimmi Simpson, Austin P. McKenzie
Sep 25 - Sep 27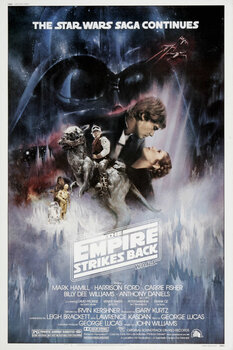 The Empire Strikes Back (PG)
Fri. & Sat.: 7:00 p.m.
Sun.: 3:00 p.m.
Running Time: 2 hr 4 min
The Empire Strikes Back
The adventure continues in this "Star Wars" sequel. Luke Skywalker (Mark Hamill), Han Solo (Harrison Ford), Princess Leia (Carrie Fisher) and Chewbacca (Peter Mayhew) face attack by the Imperial forces and its AT-AT walkers on the ice planet Hoth. While Han and Leia escape in the Millennium Falcon, Luke travels to Dagobah in search of Yoda. Only with the Jedi master's help will Luke survive when the dark side of the Force beckons him into the ultimate duel with Darth Vader (David Prowse).
Running Time:&nbsp 2 hr 4 min
Genre:&nbsp Sci-fi/Action
Director:&nbsp Irvin Kershner